did we just become best friends?
Chin Up Donuts is a woman-owned donut business created by self-named Chief Donut Officer, Alex McEntire. Specializing in pairing spicy, savory, or unexpected glazes and piling donuts high with inventive and non-traditional toppings - Alex aims to elevate a childhood favorite all while creating a happiness brand. Chin Up's mission is to bring more positivity and optimism to the world, one ring of dough at a time.
Initially her passion-project, Alex started with a single countertop deep fryer in her small apartment kitchen, playing around with unique donut flavors and bringing joy to her friends and coworkers. Alex eventually traded in her corporate badge to focus on bringing smiles and sweets to the people of Phoenix full-time, while challenging the donut status-quo. Chin Up Donuts opened in November 2020 at The Promenade in North Scottsdale, off of Scottsdale Rd. and Frank Lloyd Wright. We offer our brioche donuts alongside house-roasted coffee daily, as well as pop-up events, catering, weddings, and special events with our yellow donut trike throughout the Valley.
Keep your chin up, you live in a world with donuts.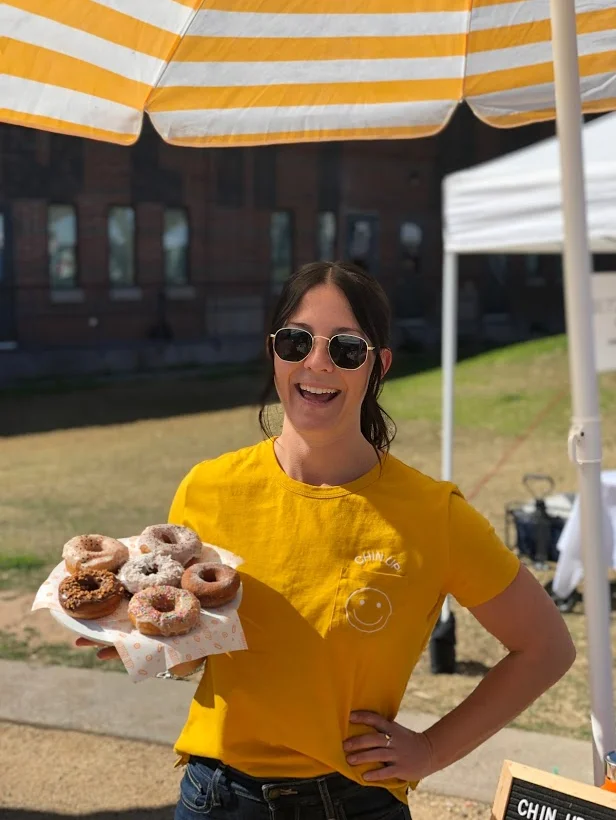 We love partnering with other local makers, from farmers, chefs and restaurateurs - to designers, artists, and producers. Have an idea for a donut flavor, produce for a fun glaze, or a product you think would be super fun in our shop? Send us an email at howdy@chinupdonuts.com and let's chat!